WCHA resident wins PAHRA scholarship
Kristen Noschese a resident at Westmoreland County Housing Authority's Penn Manor community, recently was presented with the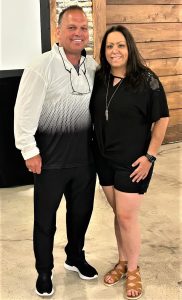 Paul G. Pecharko Memorial Scholarship by the Pennsylvania Association of Housing and Redevelopment Agencies (PAHRA).
The $3,000 scholarship was presented to Ms. Noschese by WCHA Executive Director Michael L. Washowich at PAHRA's Annual Spring Conference that was held at Seven Springs Resort on Tuesday, June 6, 2023.
Ms. Noschese is pursuing her Bachelor of Science Degree in Religion with a cognate in Biblical and Theological Studies and a minor in Christian Counseling through Liberty University.
Her goals are to establish a Christian counseling practice and form a non-profit to open a residential treatment center for single mothers and their children.
Having grown up in foster care and group homes, Ms. Noschese has a passion for providing supportive services and healing processes that are designed to empower mothers to break generational cycles of trauma and keep families together. She says her own personal hardships are "the catalyst behind my educational and career goals" in order to "leave a lasting legacy" for her own two children rather than "becoming just another statistic doomed to repeat the cycle of dysfunction."
"On behalf of all of us at WCHA, I want to congratulate Kristen on all of her hard work, passion and commitment to helping others," said Washowich.
The video features all of PAHRA's 2023 scholarship recipients.
PAHRA SCHOLARSHIP 2023.mp4 – Google Drive